Use the following formulas to fully understand your power consumption across multiple appliances and devices.
Watts = Volts x Amps
Volts = Watts / Amps
Amps = Watts / Volts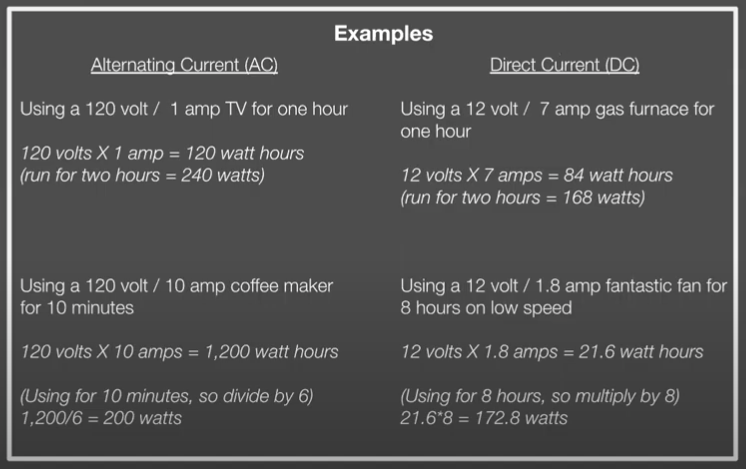 Watch Ask an Airstreamer: Power Systems for additional information on power systems:
https://www.airstream.com/ask-an-airstreamer/power-systems/
Below are common power loads and should only be used as a guide. Check your user manual or device for exact loads.
RV Appliances and Technology
Dometic AC's

Startup 3,500W

Running 1,500W

Furnace: 3,150W

Refrigerator: 440W

Microwave: 1,00W

LED Lights: ~150W

Smart TV (32"): 145W
Owner Devices
2 Slice Toaster: 800W

Air Fryer: 1,500W

Blender: 300W

Coffee Machine: 1,200W

Computer (Monitor/Printer): 200W

Curling Iron: 35W

Dehumidifier: 350W

Electric Blanket: 150W

Electric Kettle: 1,500W

Electric Weber Grill: 1,800W

Hair Dryer: 1,200W

Hand-held Vacuum: 106W

Iron: 1,00W

Laptop: 85W

Outdoor LED String Lights: 50W

Portable Fan: 115W

Slow Cooker (Instapot): 700W