Learn how to access the spare tire on the Airstream Basecamp along with important information such as tire pressure and lug nut torque.
A Goodyear ST225/75R15E tire inflated to 80 PSI (MAX) has a load capacity of 2,830 lbs.
A Goodyear 235/75R15 tire inflated to 51 PSI (MAX) has a load capacity of 2,039 lbs
A Goodyear ST235/80R16 tire inflated to 80 PSI (MAX) has a load capacity of 3,420 lbs.
A Goodyear LT235/85R16E tire inflated to 80 PSI (MAX) has a load capacity of 3,042 lbs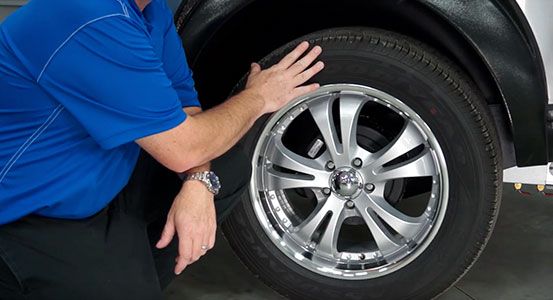 There is a spare tire wrench located inside of every Basecamp that connects to a nut on the rear of the trailer. Release the tire by cranking counter-clockwise and crank clockwise to tighten the tire back into place.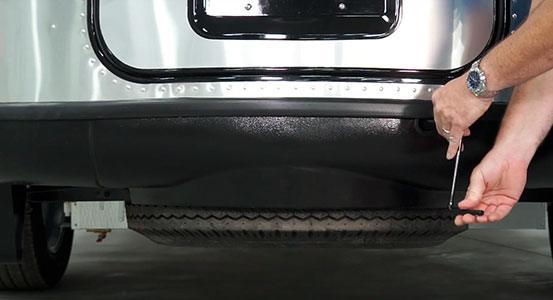 The lug nut torque needs to be at 110 ft. lbs.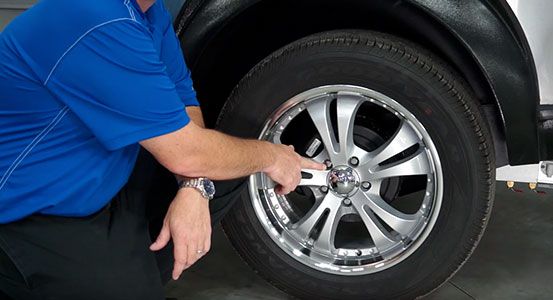 Use a torque wrench to tighten lug nuts.Tightening by hand or with an impact wrench is not recommended. Torque Aluminum Wheels to 110 ft. lbs and Steel Wheels to 100 ft. lbs.
Spare Tire Carrier -
The Basecamp's spare tire is held on the end of a cable stored under the rear of the trailer using a winch system. A ratchet, stored under the curbside dinette seat, has been provided to assist in changing a tire. To lower the spare tire turn the winch, accessed through the hole in the rear lower trim, counter-clockwise using the provided 3/4" socket. To secure a spare tire turn the winch clockwise to raise the cable and tire up into position.
NOTE: The spare tire is intended for emergency use only and is not to be used as a long term replacement. Airstream recommends driving on the spare tire at a maximum of 50 MPH for up to 50 miles.
Refer to the following table for wheel specifications -
Lug Nut Torquing
Trailer wheels must carry much higher loads per wheel than passenger car or truck wheels. Each wheel may carry 1000 pounds and higher. Furthermore, wheels on tandem axle trailers do not steer, and are subjected to very high side load stress whenever the trailer makes a tight turn. When going around corners, especially on slow, tight turns, the wheels are subject to very strong side loads. This tends to flex the wheel and gradually loosen the wheel nuts. Although the materials and manufacturing methods are maximized for this kind of service, these extra loads can cause stress, which can result in flexing and loosening of wheel nuts.
Before each trip and any time a wheel is replaced, be sure to tighten the wheel nuts, following the lug-pattern sequence shown below. If the wheel was replaced, check the torque every 10, 25, and 50 miles.
A 3/4" Thin Wall Socket will be needed to tighten or remove the Basecamp's lug nuts.
If you notice wheel wobbling, or hear a rattling sound coming from a wheel, especially at low speeds, a wheel lug nut may have come loose. This problem is usually caused by improper tightening, or by faulty or damaged lug bolt threads. If suspicious of a loose lug nut, safely stop the vehicle as soon as possible. Put up warning devices. Remove the lug caps and check the tightness of all the lug nuts. Tighten all lug nuts to the specified torque, using a torque wrench. If stud threads are damaged or faulty, get professional service help.
Always reference the Basecamp owner's manual that matches your model year spec: https://www.airstream.com/owners/manuals/?s_manuals=Basecamp