Learn where the power outlets are in the Airstream Basecamp.
The Basecamp galley has two retractable 120V receptacles with USB ports installed in the galley's counter top. These flush mounted receptacles can be pulled up to use the outlets/USB ports. When not in use, simply press the receptacles back down to lock them in place. The receptacle is completely self-contained and sealed should any spillage occur around its casing.12V
Grab the socket and pull upward until it stops.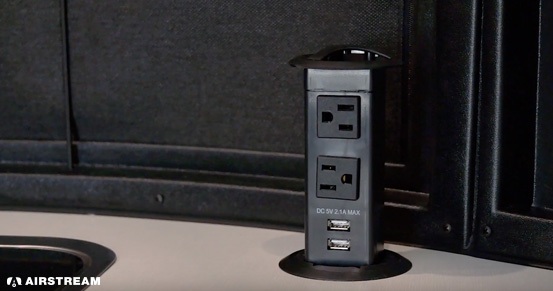 12-Volt Power Circuits
The current in the converter system is 12 volts direct current (12 VDC) negative grounded. Power sources that supply 12 VDC current to the system are as follows:
• Main charge line from tow vehicle
• Trailer batteries
• Converter
The power sources listed above are all electrically connected to the 12-volt distribution fuse panel that distributes current to interior branch circuits. The circuits provide power to operate all 12-volt DC lights, pumps, motors, and appliances.
The power converter is a solid-state electronic power supply and is maintenance-free. It is so self-sufficient and quiet that you will probably not know it is working except for the fact that your batteries are always charged, and your 12-volt lights and appliances always work. If any 12-volt appliance fails to operate, first check your 12-volt distribution fuse block, located behind the decorative front door in the front right-hand corner of the converter and inspect all fuses. If a fuse is opened or blown, replace it with the same size fuse (never install a larger fuse). If the fuse opens again, have an electrician or certified RV technician locate the circuit trouble. Replace blown fuses only with the same type and amperage size previously used.
If the power converter is not working, first confirm the RV supply or shoreline cord is plugged into a live circuit. Then check all the 120-volt breakers in your RV distribution panel to make sure they are on. If the breaker is tripped, follow instructions to reset the breakers. If the breaker trips again, consult an electrician or certified RV technician.