Whether you're new to Airstreaming or a longtime pro, there are safety precautions everyone should follow. If you're a newbie, incredible adventures await you – which is both exciting and daunting. Don't worry: We've got a few safety precautions to keep in mind so that you can enjoy your first adventure to the fullest.
How Do I Keep Everyone Safe In My New Airstream?
The best rule of thumb when traveling with an Airstream is to slow down, give everything careful consideration, and use common sense.
Here are a few specific safety precautions to keep in mind when out on the open road.
You cannot tow an Airstream with people inside. Your travel trailer is not designed to carry passengers when in motion. All passengers should travel in your tow vehicle or a secondary vehicle until you are at your destination.
Be Mindful of Weight Distribution. When en route, it's important that your travel trailer is packed with weight distribution in mind. When such a heavy load goes over bumps and takes turns at speed, things can get off balance and cause an accident. Distribute items inside your Airstream evenly across the travel trailer for efficient, trouble-free towing.
We recommend loading 60% of the weight in front of the travel trailer's center axle and 40% of the weight in the back, behind the center axle to prevent fishtailing on the highway. For side-to-side weight distribution, keep it an even 50/50 for proper balance. Load your heaviest items into the trailer first (on the floor or in the underneath compartments), ensuring they are equally distributed and not all in one place. Then load your smaller items afterwards.
Don't forget to account for holding tank weight (if they aren't empty) and secure everything so it doesn't shift during the ride.
Choose A Proper Towing Vehicle. Finding the right tow vehicle for you and your adventure is imperative for a safe and enjoyable trip. Consider the size and weight of your trailer and who is driving the vehicle when making your decision.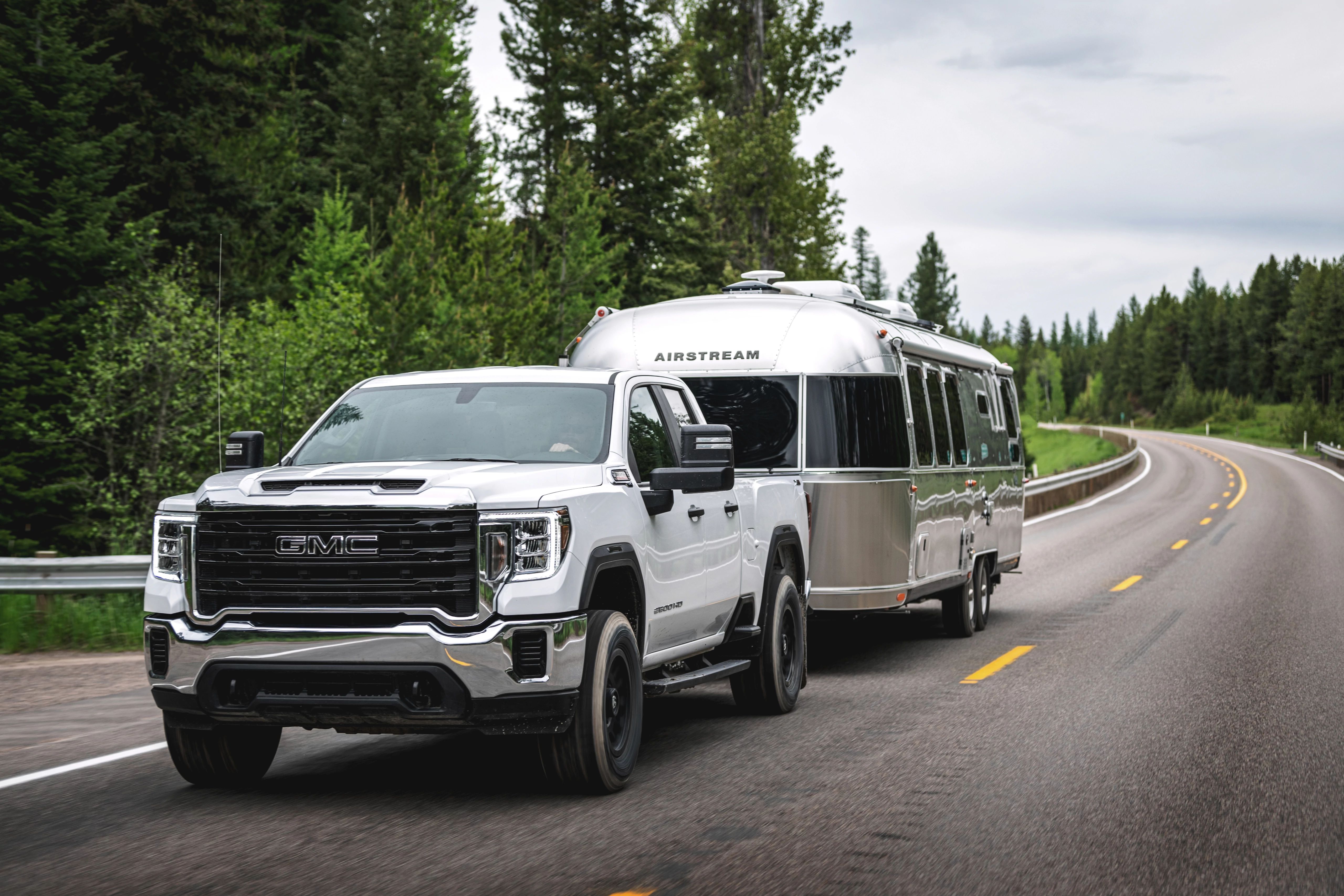 Lock Your Hitch. The bumping and jarring of road travel can knock it out of place, which is extremely dangerous. Ensure that your hitch accessories are secure while towing with this deadbolt hitch lock from Airstream Supply Company. You can also use it in place of the standard pin on your automobile's hitch receiver to secure your hitch ball, cargo carrier, or bike rack.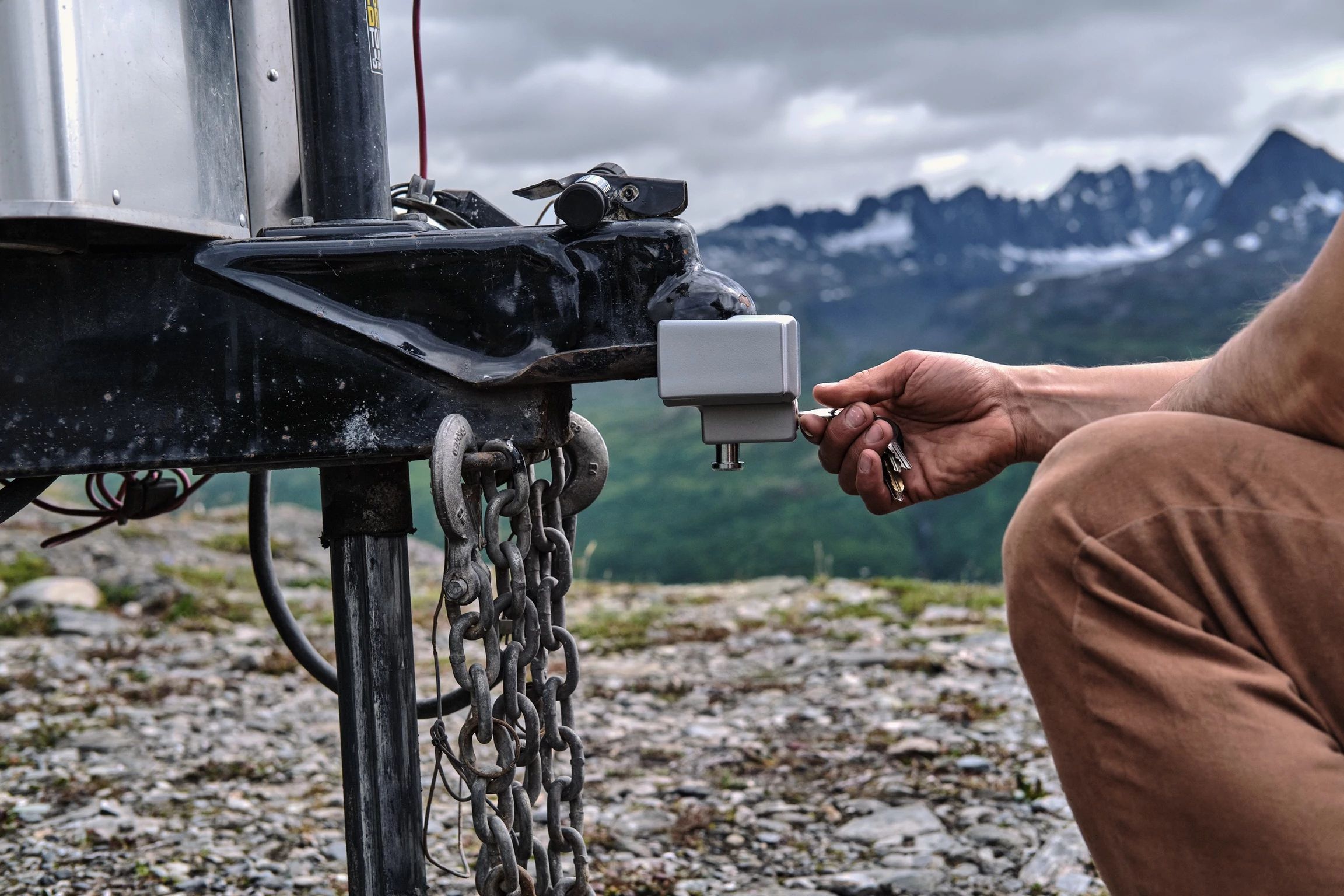 Always Hook Up Your Emergency Breakaway Cable And Chains. In the unfortunate situation that your trailer becomes unhitched while towing, the cable is pulled and will immediately engage the brakes on your travel trailer.
Know And Obey Traffic Laws. This seems obvious, but is worth clearly stating. Always obey all traffic laws and do research to ensure you are familiar with the regional laws when you are traveling out of state. Don't be in a rush, take your time, and give yourself plenty of space on the road.
Be Wise with Hazardous And Flammable Material - Be cautious when using and transporting matches, cigarettes, propane, chemical cleaners, etc. Know how to properly use and dispose of hazardous and flammable materials and keep them out of reach of any children who may be around your campsite.
Chock The Wheels. Once you safely make it to your campsite and park, always chock the wheels so they can't move when you are parked. This will keep you and your travel partners safe from accidental travel trailer movement at the campsite.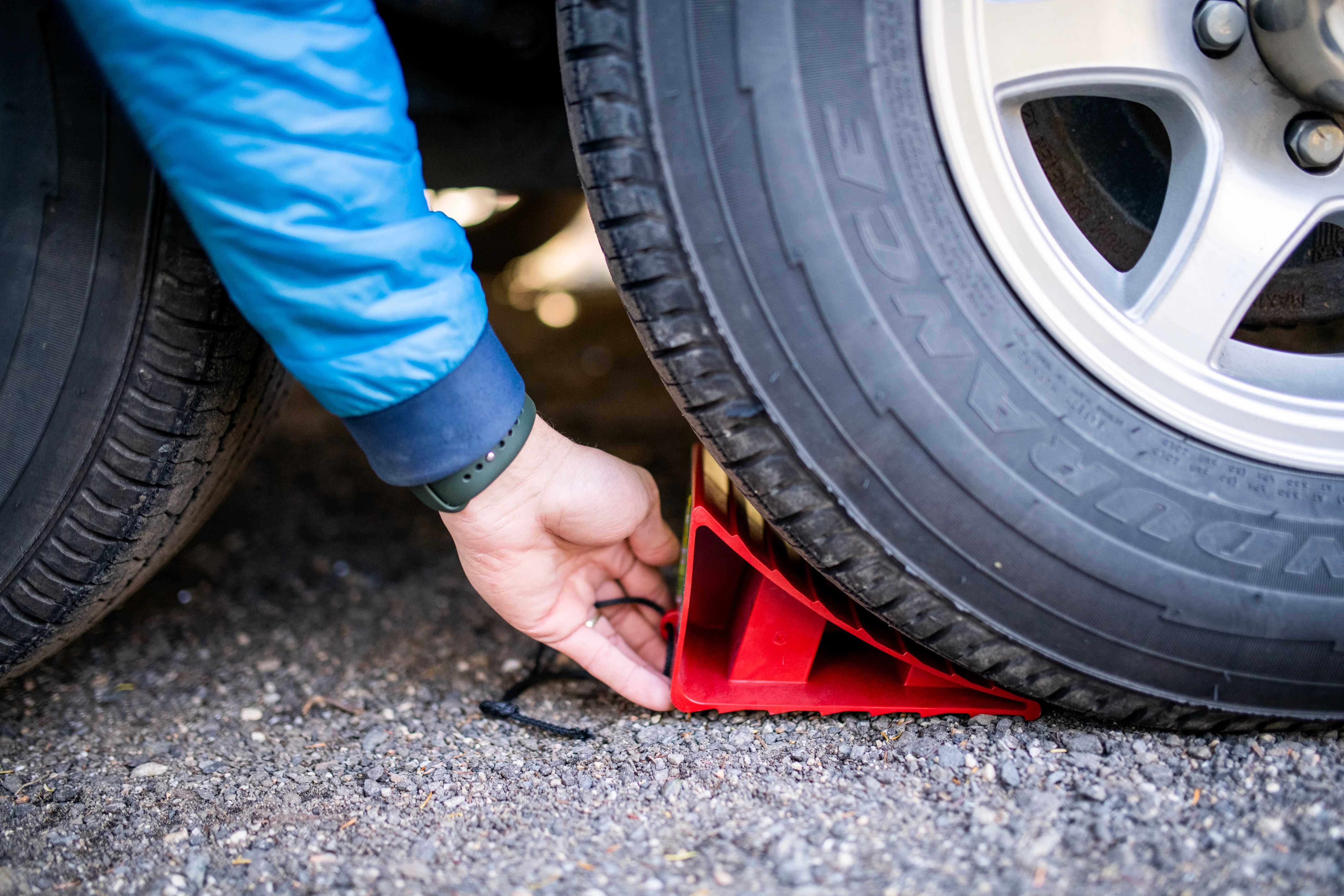 Understand How To Read Your Smart Control Features. From tire pressure to battery power, learn how to monitor your smart control features to prevent a variety of mishaps while traveling in your trailer.
Lock And Secure Your Travel Trailer When Away. Properly secure your Airstream when you step away from your campsite or when in storage to deter thieves from breaking into your travel trailer. We recommend installing our custom Airstream Anti-Theft Lock Kit, which includes three different locks for deterring theft both while your travel trailer is hitched or unhitched from your tow vehicles.
Have Emergency Supplies On Hand. Browse Airstream Supply Company's emergency supplies, including roadside emergency kit, flashlights, fire starters, power supplies, and more.
For more Safety & Preparedness tips, visit Airstream Academy.