Washing your Airstream travel trailer is one of the best ways to preserve your investment while simultaneously making it look great. Giving it a good scrub removes the road grime, bugs, pollen, and dust that builds up whenever you hit the road. There's simply nothing like the shiny aluminum look that comes with periodic washing – and while it may seem a little daunting if you've never done it before, we've got helpful hints to make it easier.
The Basics of Washing an Airstream Travel Trailer
You'll need a couple products to get you started. Luckily, everything you need is readily available through our online store, Airstream Supply Company, and your local automotive supply store.
Airstream Washing Essentials
Microfiber cloths: The more, the better. Bonus points if you can color code them for ease of use and to keep different cleaners and polishes separated. Think: Blue for washing, gray for polishing, and yellow for drying.
Click Here to Shop our Exterior Cleaning Collection on Airstream Supply Company
If possible, wash and polish your Airstream on a cloudy, gray day. Work in sections, washing top to bottom in one six-foot section at a time, all the way around. Start with a rinse, scrub with soapy water and microfiber towels, then dry with clean microfiber cloths. Use caution if using ladders to reach the higher parts of the exterior and take care to not let the ladder scratch the aluminum.
After you wash the entire exterior, it's time to polish. This process involves wiping polish on the aluminum until a haze forms, then using a clean cloth to buff the haze until the surface shines. We also recommend using a wheel cleaner.
Keep in mind that washing your Airstream is also a great opportunity to inspect the exterior. Look for broken seals on the rooftop, missing rivets, or loose connections.

What kind of soap should I use to clean my Airstream travel trailer?
Airstream recommends washing your late-model travel trailer using a mild auto detergent safe for clear coated surfaces. There are a variety of products you can use which are commonly available at automotive stores and retailers. But there are a couple cleaning products we love – from auto detergents to polishes and all-in-one solutions. We offer many of these products for sale online at our official store, Airstream Supply Company.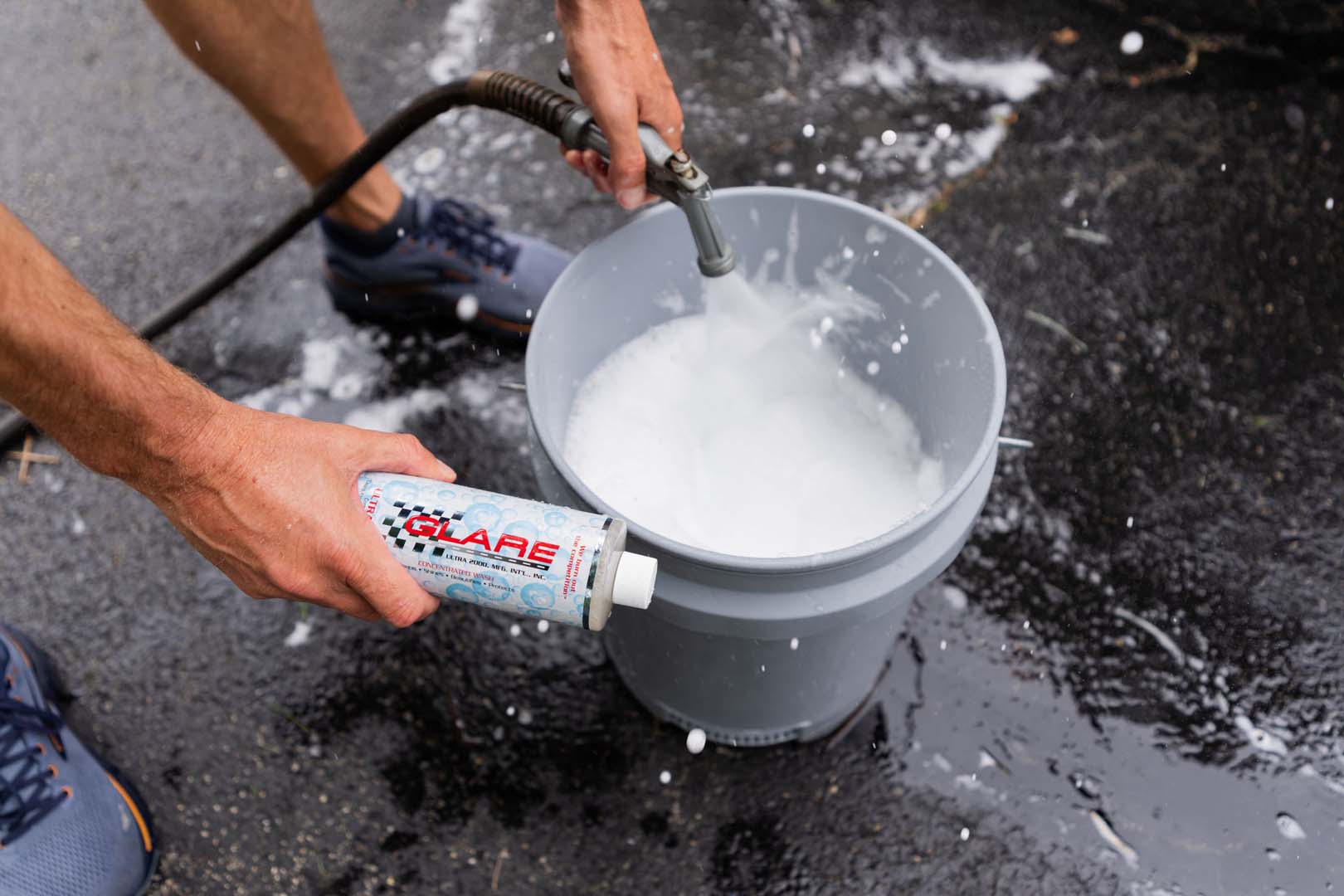 One of our favorite cleaners is Glare Ultra Wash. A few capfuls in a bucket of water and you have a rich soapy mixture that's perfect for scrubbing the aluminum exterior of your Airstream travel trailer. Remember to always use a soft, microfiber cloth or appropriately soft automotive sponge.
Shop Glare Ultra Wash on Airstream Supply Company
What about my Airstream's wheels?
Don't forget about the wheels when you're washing your Airstream. We recommend Glare Turbo Action Wheel Cleaner, which is super easy to use: Simply spray it on the wheel and lug nuts, wait one minute, and then rinse it off. You'll watch the dirt streak off the wheels and the difference is amazing.
Shop Glare Turbo Action Wheel Cleaner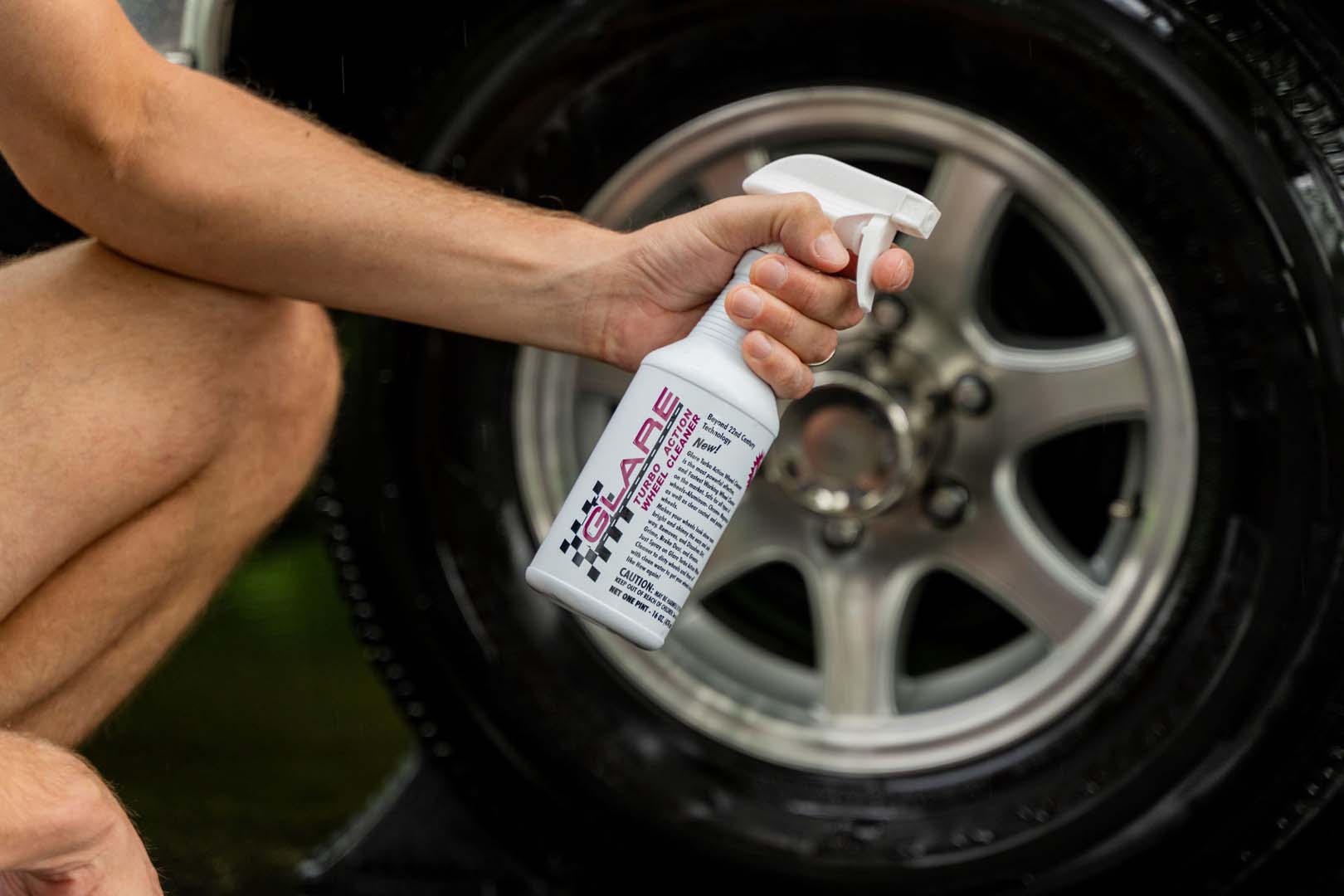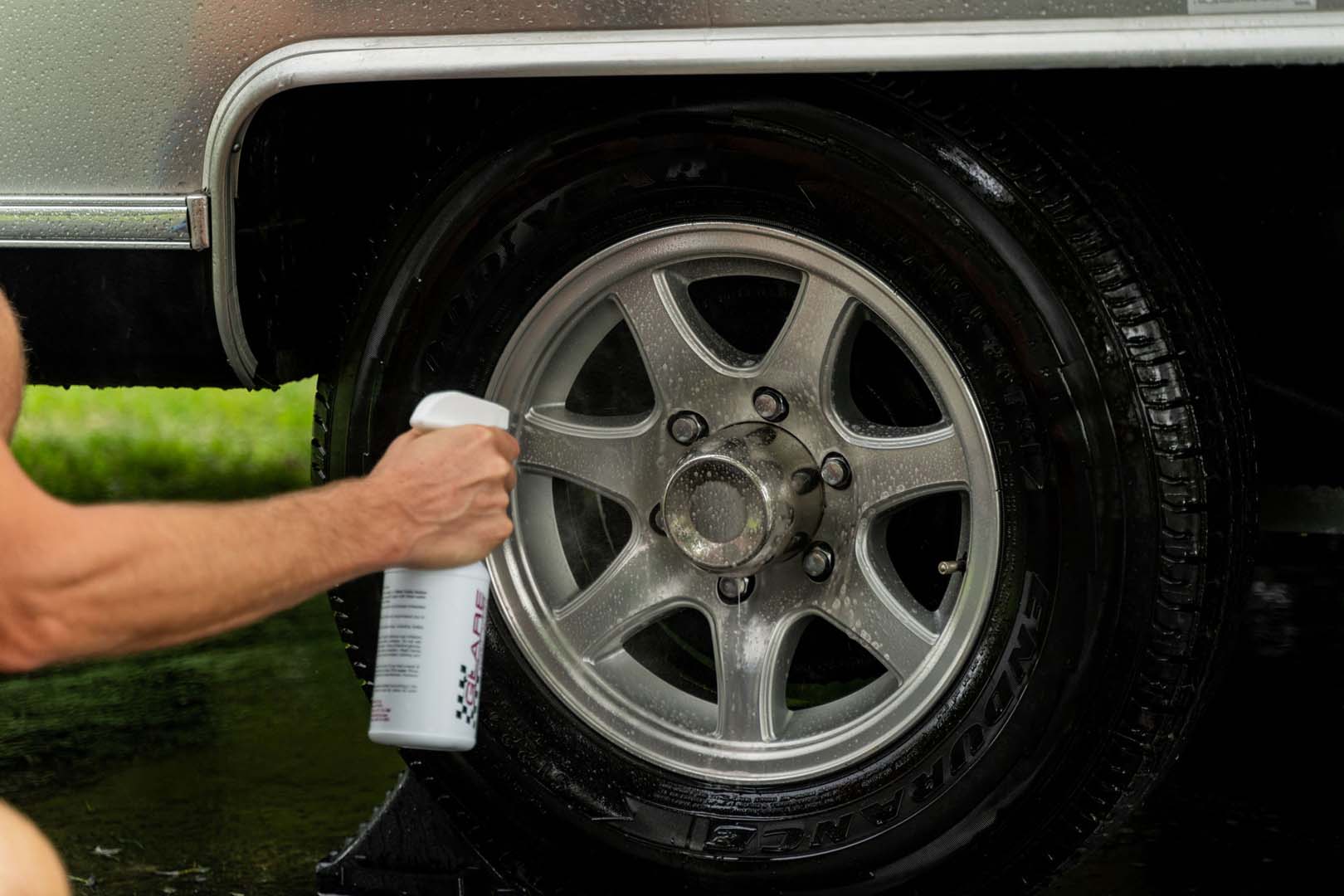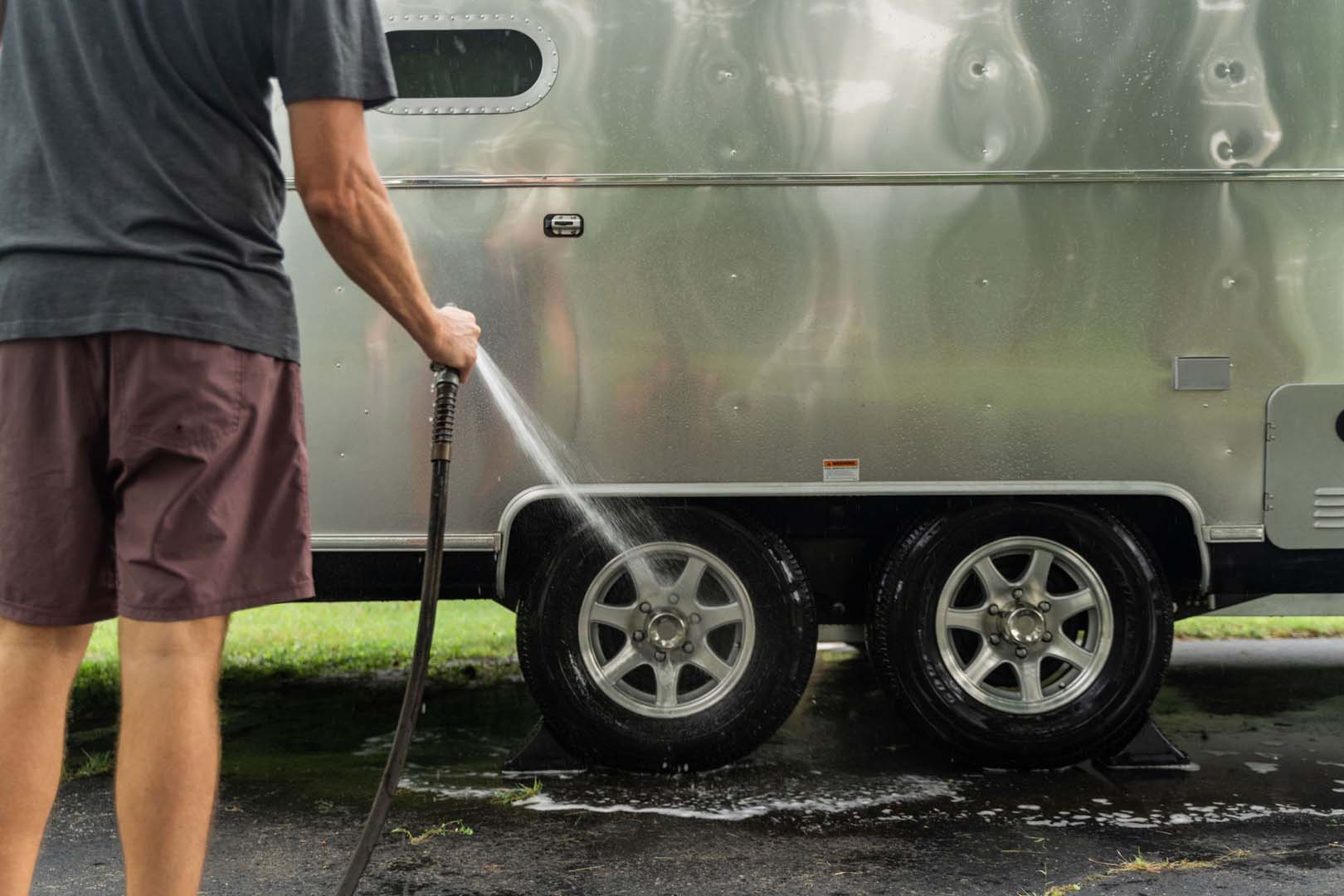 Should I dry off my Airstream before I polish it?
Yes. Use soft, microfiber towels to dry off the exterior before you apply polish. Many automotive stores sell multi-packs of these towels, and it's a good idea to have 5-10 towels that you can cycle through while you dry the exterior.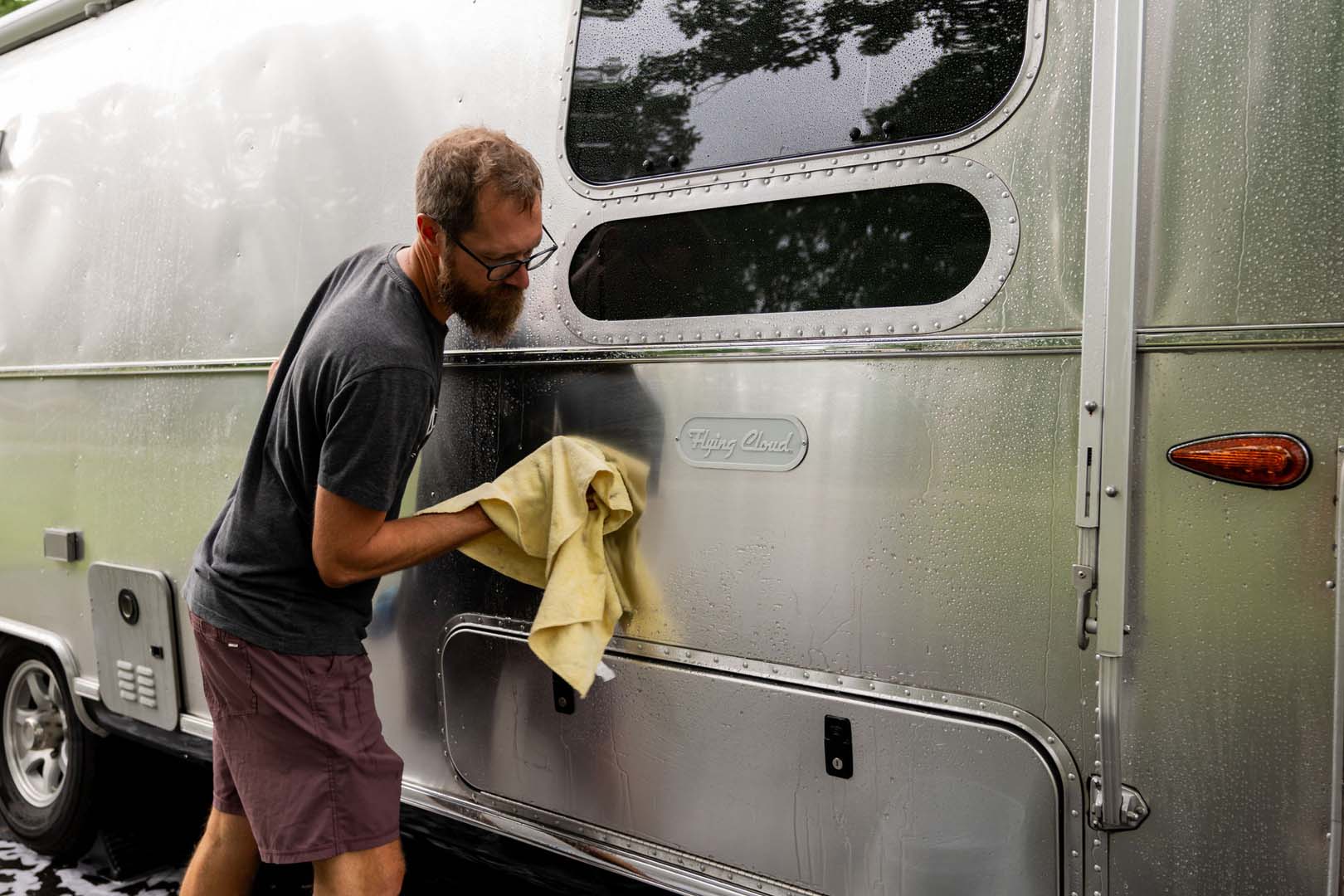 What kind of polish should I use on my Airstream?
Polishing your Airstream travel trailer adds a layer of protection against the normal wear that comes from traveling down the highway. The more often you can polish your Airstream, the better it will withstand the harsh rays of the sun, as well as the dirt, dust, pollen, and grime that builds up as you move down the road and camp.
Once you've washed and dried the exterior, there are several options for polish. We love Glare Professional Polish and Walbernize Super Seal. Many Airstreamers swear by the all-in-one cleaning-polishing power of Walbernize Super Seal.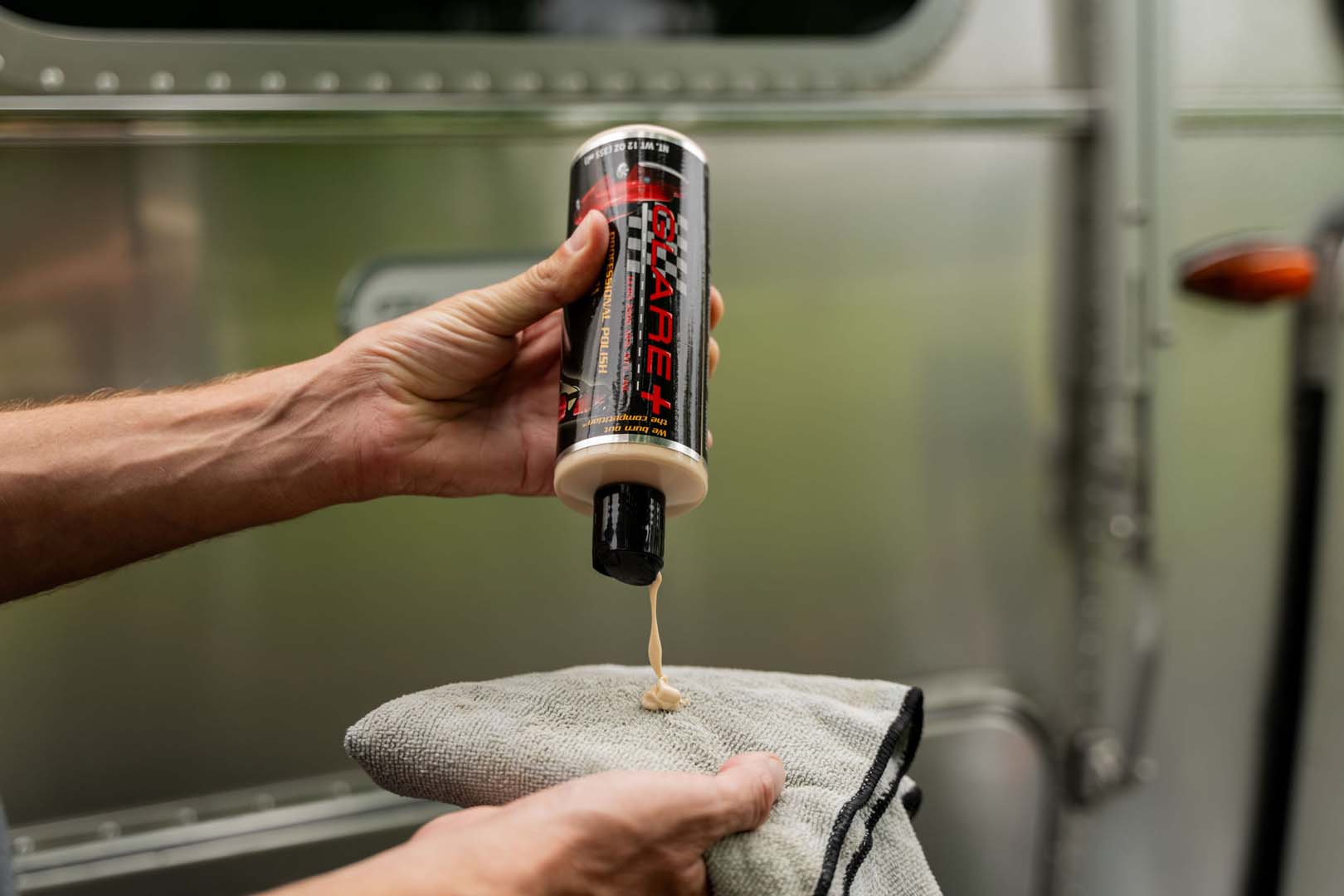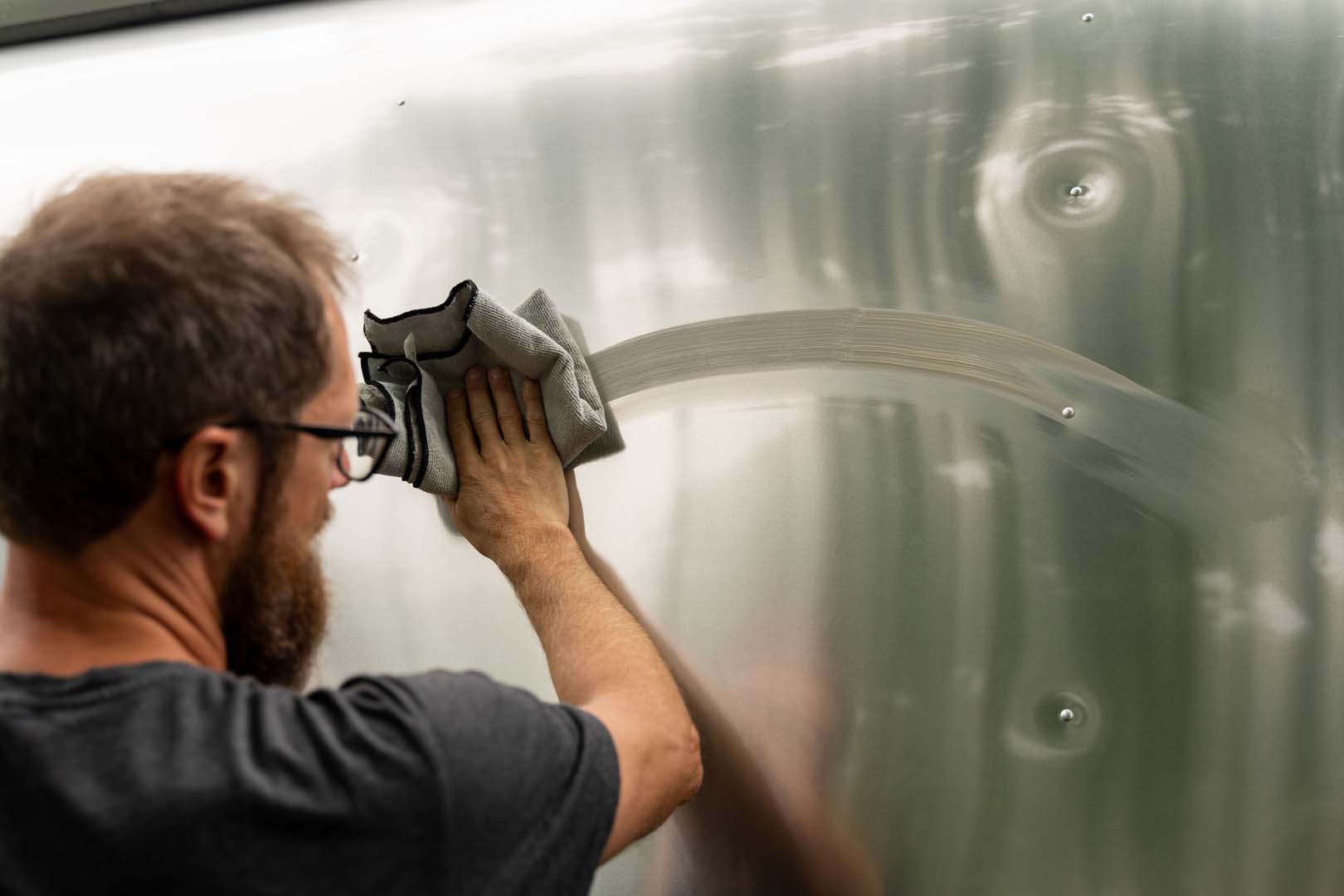 Both Glare and Walbernize are applied under the same principles of most polishes: Simply apply a bit of polish to a clean microfiber cloth (or directly to the exterior of your Airstream) and wipe in a horizontal motion with the grain of your Airstream's aluminum exterior. As you work, a haze will develop. Once you've spread the polish across one section of your Airstream, get a clean cloth and wipe in a horizontal motion. As the haze disappears, the exterior will begin to shine.
If your Airstream doesn't have a clear coat, use Walbernize One-Step Cleaner Polish and Glaze.
Shop Glare Professional Polish
Shop Walbernize One-Step Cleaner Polish Glaze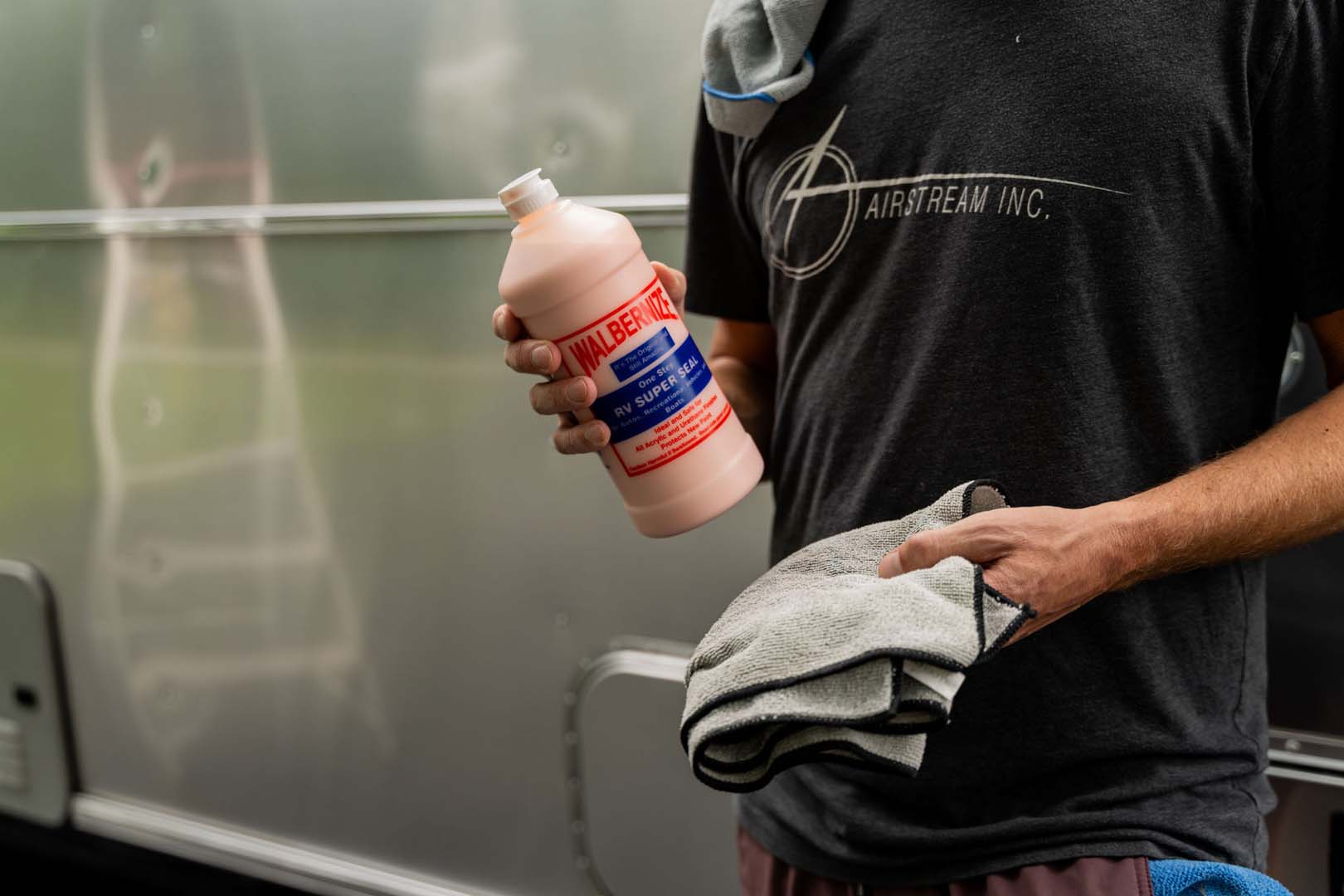 How often should I wash my Airstream?
We recommend washing based on operating conditions. If you travel full-time or take your trailer out every week, you probably want to wash your trailer more often than someone who only goes out a couple times every season. If you store your trailer uncovered, you also may want to wash and wax more often than someone who stores their trailer in a covered or climate-controlled storage unit.
At minimum, we recommend a good scrub a couple times across the course of your camping season – after every trip if you can manage it. And we recommend waxing a minimum of twice a year to keep the aluminum protected for years to come.
And importantly, it's always a good idea to try and time your exterior wash for a gray, cloudy day, as heat can affect the way the polish reacts.
Shop our Exterior Cleaning Collection on Airstream Supply Company