A generator is a helpful accessory for keeping batteries charged and running the air conditioner when you're boondocking and not hooked up to shore power. But what should you look for in a generator, and what size generator is needed to run various appliances? Read on for our guidelines around generator use.
The Right Generator for Your Camping Style
If you're boondocking and just want to ensure that your batteries don't fall to unhealthy levels, a 1,000 watt generator is typically sufficient for charging the batteries. However, if you want to run your Airstream's appliances – such as the microwave or air conditioning units – it is recommended to have at least 4,000 watts or more* (for a 30-amp system).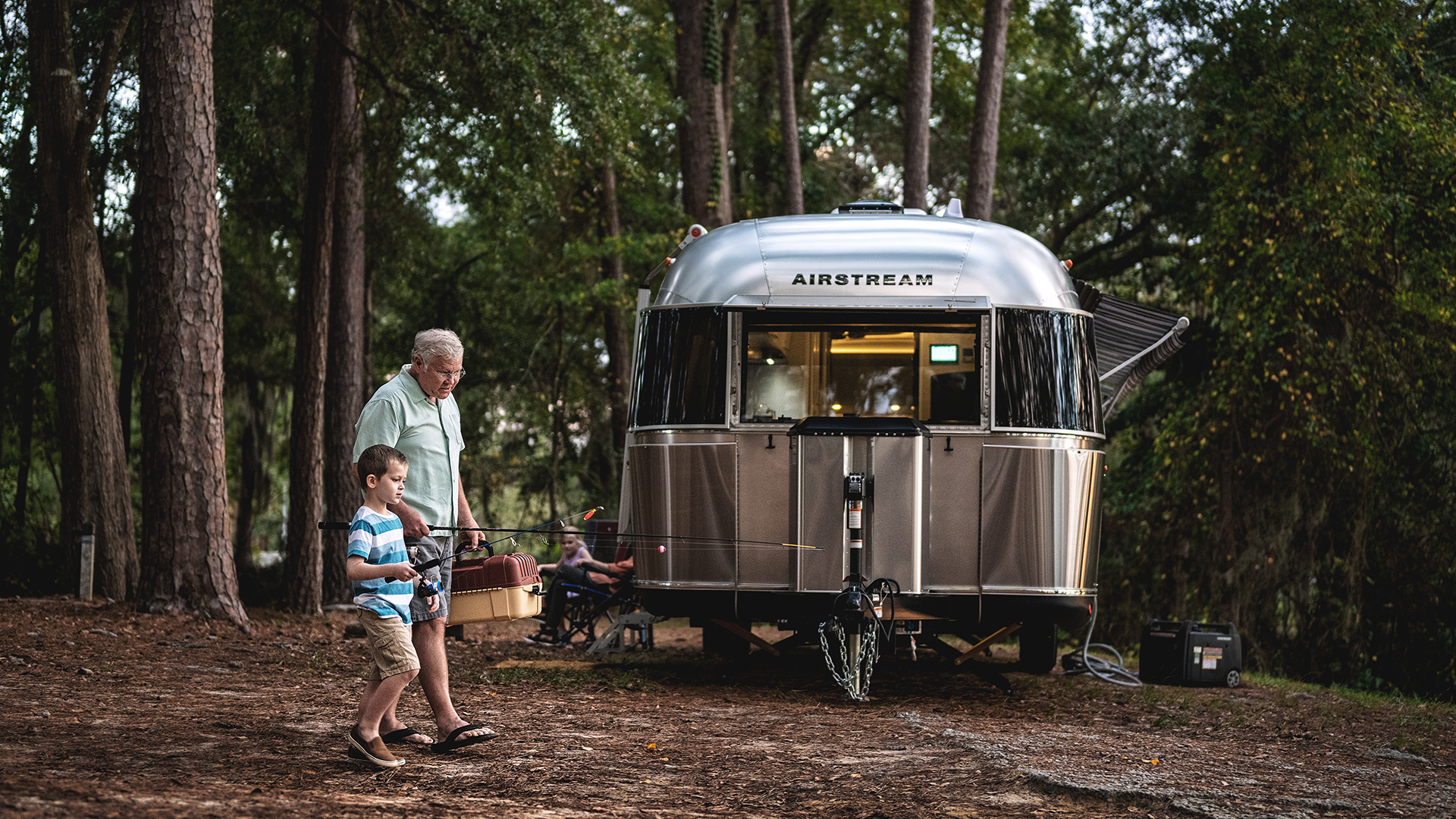 How Much Power Output Do You Need?
This is probably your biggest question when it comes to generators, and we don't blame you. It's not every day you calculate the wattage of all of the electronics you use, so we're here to help.
It's smart to start with your air conditioner, as it's likely going to draw the most power for the longest period of time. Plus, your air conditioner will naturally draw more power when it's first turned on. This is what's called "Starting Watts." The power you need to keep your air conditioner running after it's started successfully is called "Running Watts." Most generators specify the upper limits of each category. So, if you're going to be running your AC and some common indoor entertainment devices and appliances, here's an example calculation with approximate power draws:
Used Continually
Air Conditioner 15,000 BTU = 1,800 Watts
Refrigerator = 325 Watts
Interior Lights = 100 Watts
Used Sporadically
Convection Microwave = 2,000 Watts
Radio/CD player/DVD player = 200 Watts each
TV = 200 Watts
Laptop = 140 Watts
Example Total = 4,765 Watts
For this level of usage, a 5,000 watt or higher generator should allow you to start up and run all of your basic conveniences in conjunction with your propane-powered appliances and devices. Many Airstreamers accomplish this using two portable generators run in parallel.
Please Note: The above calculation is for illustrative purposes only and does not serve as a standard across all Airstream Travel Trailers or RVs in general. Consult generator manufacturers for information on the limitations of each specific generator.
What Features Should You Look for in an RV Generator?
1. Safety
Look for enclosures to protect from the elements, as well as emergency shutoff, power surge, and fuel safety features.
2. Portability
Size of generators basically corresponds to their power output, so the more power you need the larger generator you need. However, the size of generator needed to power the average RV will often fit well within the confines of a truck bed or your RV itself. Look for generators with wheels and handles for easy lifting and transporting.
3. Fuel economy
Compare the fuel consumption and fuel economy of multiple generators and look for the most efficient use of natural resources possible. Often, generators have an eco mode to conserve power when you're not using all of your appliances and devices.
4. Electronics-safe
If you plan to use your generator to power sensitive electronics like TVs and computers, make sure your generator is built to keep them safe.
5. Noise level
Whether you're camping around others or out in the open by yourself, you won't want a noisy generator interrupting your peace and quiet. Look for quiet generators you can use anywhere without being a nuisance.
6. Lightweight
If you're storing your generator inside your travel trailer, you'll need to account for the extra weight and make sure it's within your vehicle's capacity and under the maximum weight limit of your trailer.
7. Easy startup
Some generators feature a pull-start like a lawnmower, while others use a key or even a remote to start. Laying in bed and starting up the generator sounds pretty convenient, doesn't it?