Storing your Airstream properly will give you peace of mind that you can pick up where you left off. The more you put in ahead of storing your Airstream, the more you will get out of it on the other end when you are able to hit the road with minimal prep work. Proper storage and storage procedures can also lead to fewer repairs and less clean up. Whether long-term storage or just for a short period between trips, here are a few storage options to consider:
Do I Need To Keep My Airstream Covered When Not In Use?
There are many benefits to storing your Airstream in a covered area when not in use. It protects the exterior from the elements, which can accelerate the degradation of sealants and plastic components on the exhaust fan, roof vents, and other appliances and accessories installed on your travel trailer. It also helps keep the temperature inside of your Airstream more regulated.
That said, all Airstreams are designed for four-season use and hold up well under the elements, though winter camping is much easier with the use of additional accessories (like AirSkirts) and some additional procedures. If you need to store your Airstream somewhere that is not covered, ensure it is properly stored for the season and environment. See: How To Winterize Your Airstream (and why) and How To Deter Wildlife From Damaging My Airstream While In Storage?
What Type of Covered Storage Is Best For My Airstream?
Airstream does not recommend using any type of flexible cover for your travel trailer. The installation and movement of these types of covers in windy conditions could scratch your Airstream's clear-coat. Instead, consider a carport, garage, or covered storage unit. The size of your Airstream, your location, and your budget will determine what type of covered storage is best for you.
If you have the space and there are no regulations about storing your Airstream on your own property, installing a carport or building a garage is a great solution. You'll always have your Airstream nearby giving you peace of mind that it is in good hands, and if you have the ability to add electrical service to your storage area, even better. These types of storage setups can also serve as a guest house or office space, adding more comfortable living space to your home.
Renting a secure storage unit is a popular option with Airstreamers whose home is not an option for storage. When shopping for a space, consider security, if it's temperature controlled, wildlife preventative measures, distance for your home, and cost. There are often a variety of options available – from climate controlled individual storage bays to three-sided covers that shield your Airstream from sun, rain, snow, and hail.
What About Short Term Storage of My Airstream?
Sometimes your Airstream travel trailer may need to go into short term storage which doesn't require a full "winterization" storage routine. What should you do when you need to store your trailer or touring coach for just a few days or weeks? These simple storage tips will keep your Airstream in optimal health so that it's ready for your upcoming adventure.
When should I put my Airstream in short term storage?
Each travel situation is different, and sometimes your adventures bring unexpected surprises. Here are a few examples of when you may need to put your Airstream in short term storage:
It needs a repair and will be in the shop for a few days or weeks.
You are making a pit stop on your road trip to a big city, and opt to stay in a hotel downtown instead of your Airstream.
Part of your vacation will be spent with family and friends who aren't camping, but instead rented a beach house.
It's always a good idea to have duffle bags or small pieces of luggage in your Airstream for those instances when you need to pack up and stay somewhere else for a few days.
Maintaining The Humidity Level In Your Airstream During Short Term Storage
It's important to maintain the humidity level in your Airstream when it's in storage. If you are in a humid climate, you'll need to take steps to prevent the excess moisture which can cause mold and mildew damage, not to mention foul smells. We recommend using a product such as DampRid to help manage moisture and stagnant air. One area where moisture can build up considerably is between your mattress and the bed frame. Consider using an Airflow accessory – available at Airstream Supply Company and custom-made to fit your model's unique mattress shape – to encourage fresh air flow under your mattress and help prevent unwanted mold or mildew.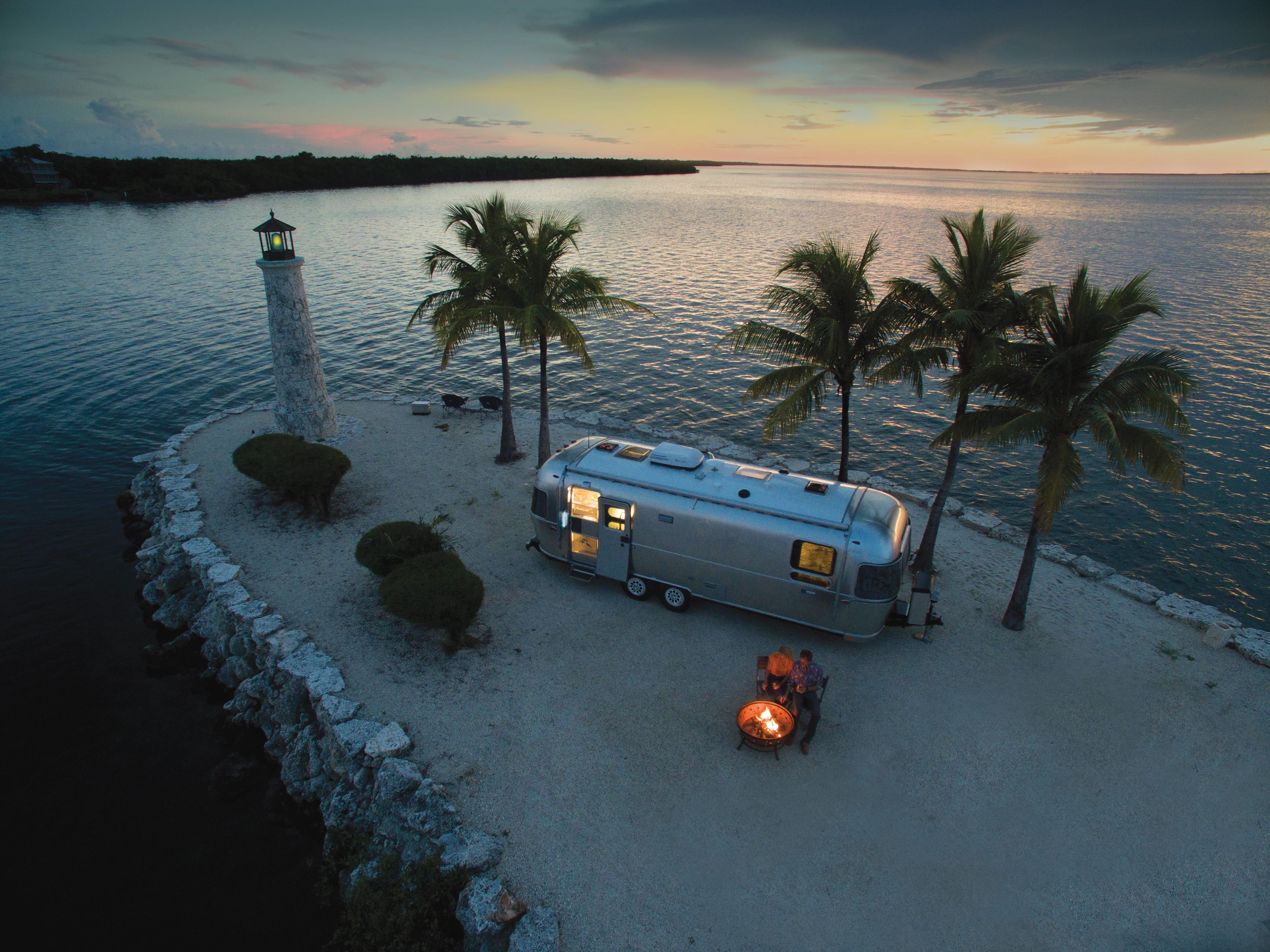 If you are in a hot, arid climate, the challenge is to keep the humidity level up to prevent heat damage. We recommend sitting a bucket of water on the inside of your travel trailer or filling up the sinks with water to help add humidity inside while you aren't there.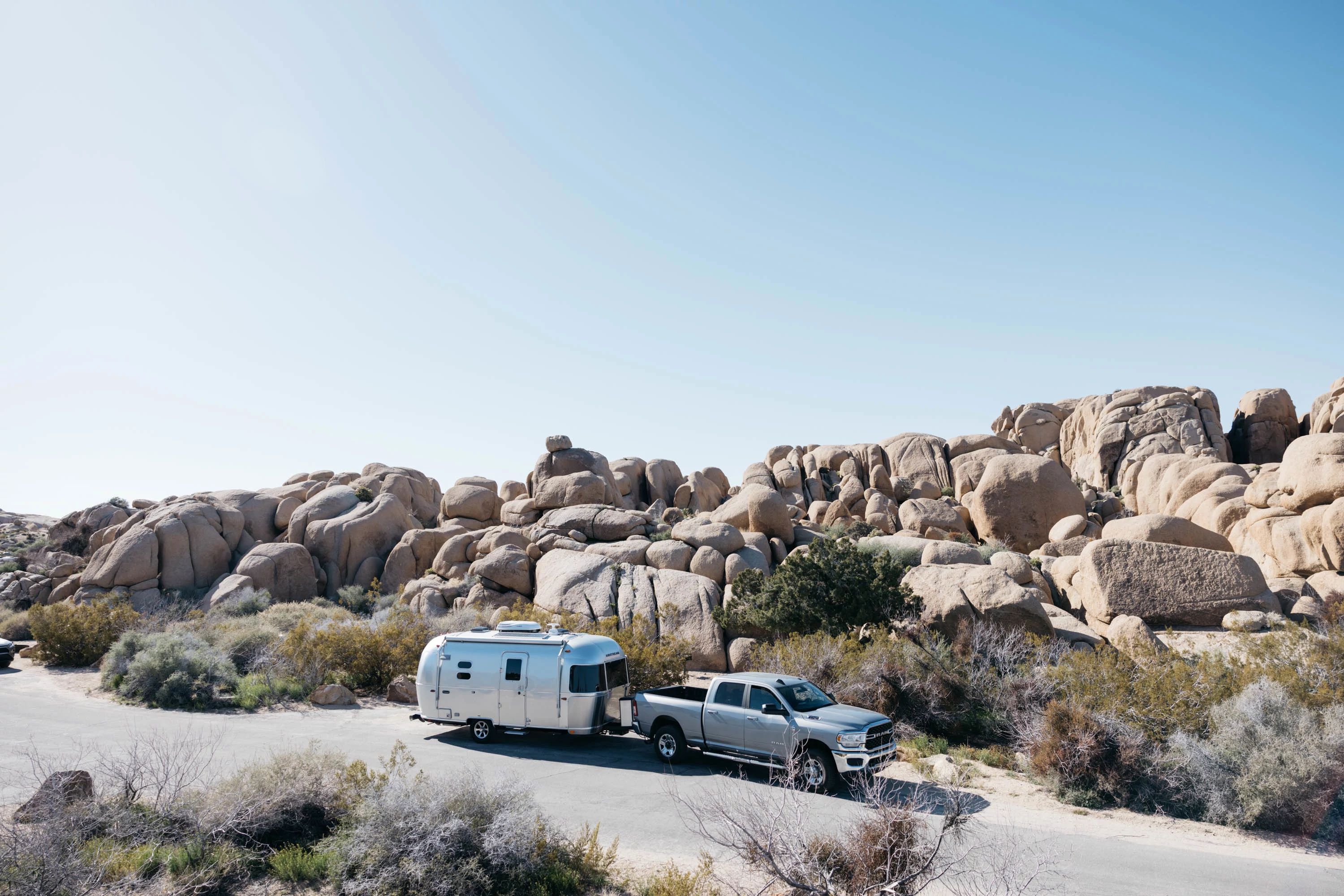 Short Term Storage Checklist For Your Airstream Travel Trailer
If you need to store your travel trailer for a few days, few weeks, or even a couple of months, this easy checklist will set you up for a successful and happy return to your Airstream:
Ensure the

battery disconnect switch

is off so that your battery isn't depleted.

If you are connected to power, you can leave the fans running for air circulation, which can help prevent smells and mildew.
If you have vent covers installed, leave the vents open to promote air circulation.
Don't leave any perishable food items in the refrigerator, freezer, or cabinets. They will spoil, leaving a foul smell and will attract bugs and other wildlife.
Leave your refrigerator and freezer doors slightly ajar to prevent smells.
Leave the bathroom door open to prevent mold and mildew build up.
Empty all tanks to ensure they are clean. If you will be leaving your Airstream in storage for longer than a few days, consider adding a small amount of fresh water to the tanks to prevent seals from drying out and cracking.
Leave the toilet with a small amount of water in it (less than a full flush) to avoid complete evaporation. The toilet seal should be kept moist at all times to avoid cracking and leaks.
Run the water in the shower and sinks for just a couple of seconds before leaving the Airstream to ensure water stays in the P Traps. This avoids them drying out and letting sewer gas come up from the drain.
Spray for bugs or leave bug traps before you leave to deter them from making a home in your travel trailer.
Consider checking in on your Airstream periodically throughout its time in storage to ensure there are no issues presenting themselves, such as leaks, foul smells, battery drain, or wildlife damage.