Many modern Airstreams are equipped with a SeeLevel monitoring system that allows you to check in on the status of your battery's charge, and the fullness of your grey water, fresh water, and waste tank. It's important to understand how to read this monitor to properly maintain your battery and tanks for the best possible adventures in your Airstream.
Where is the Tank Monitoring System Located in My Airstream?
The SeeLevel monitoring system is located under the galley inside the cabinet on Classic models and above the galley on the wall on all other models.
How Do I Read the Tank Monitoring System in My Airstream?
Reading the Battery Voltage and Determining the State of Charge
Push the first button on the left that reads "BATT" for the status of the battery's voltage. The upper limit of voltage on a healthy battery is around 14V. When you push the BATT button while plugged into shore power, the display should show a reading around 13.5V. The voltage will begin to drop while running solely on battery power.
Use the below guide to determine your battery's state of charge. The left side of the chart outlines different lead acid batteries, included 12V Flooded Lead-Acid (FLA), 12V AGM Sealed Lead-Acid (SLA), and others, as well as notes specific to the Depth of Discharge (DoD) to help you keep your batteries in tip-top shape. The right side of the chart outlines info about lithium batteries.
For the AGM batteries commonly installed from the factory, you want to ensure that the voltage stays above 11.9 for optimal performance and to preserve battery life. If your battery voltage drops below 12, recharge as soon as possible by using a generator or plugging into shower power.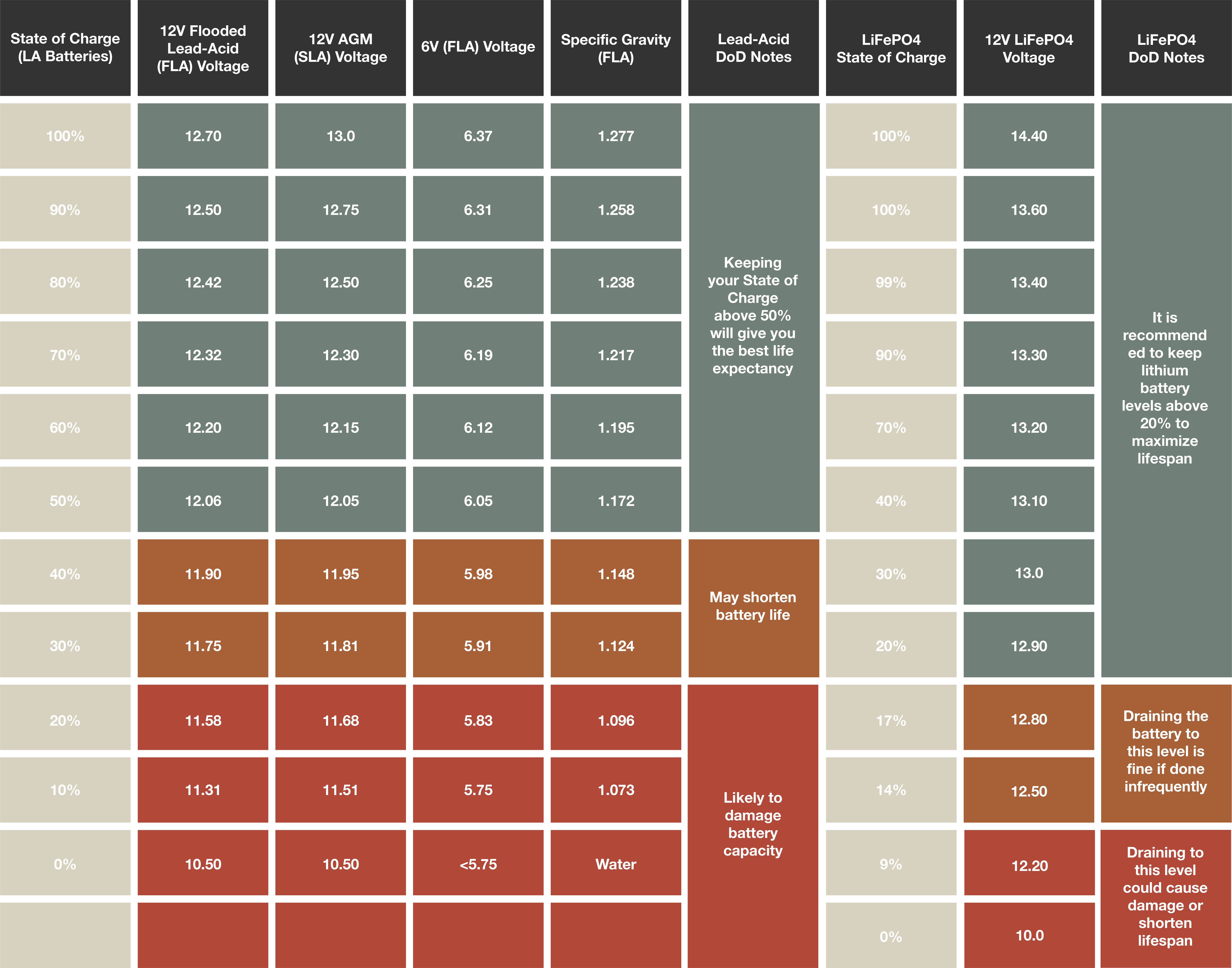 Reading the Fresh, Grey, and Waste Tank Level in My Airstream
Push the second button that reads "FRESH" for the fresh water tank percentage. This will tell you how full the tank is – the number indicated is a percentage toward full.
The "GREY" button reveals the grey tank percentage while the "BLACK" button reveals the waste tank level. It's important to not let these tanks get too full, so knowing where and when you can dump your tanks is important as the percentage increases. (Note that the labels on these buttons can change from model to model).
A reading of 0 means your fresh, grey, or waste tank is empty, while 100 is completely full. Note that often these readings are approximate.
The switch to the right of the monitor's screen is the water pump on/off switch. Note that the Airstream's Classic model water pump is controlled by the multi-plex panel and not the tank monitoring system.