Can I take my Airstream to a dealership for service?
Whether you're shopping for a new Airstream or looking for the best service available when it comes time for maintenance, your local Airstream dealer is your go-to for the best sales, service, and support. Among Airstream's dealer network, our Five Rivet Dealers stand out for their exceptional attention to detail throughout the entire ownership process.
Only the top Airstream dealers who have successfully met the highest standards in both sales and service are recognized for their accomplishments by becoming a 5 Rivet Dealership.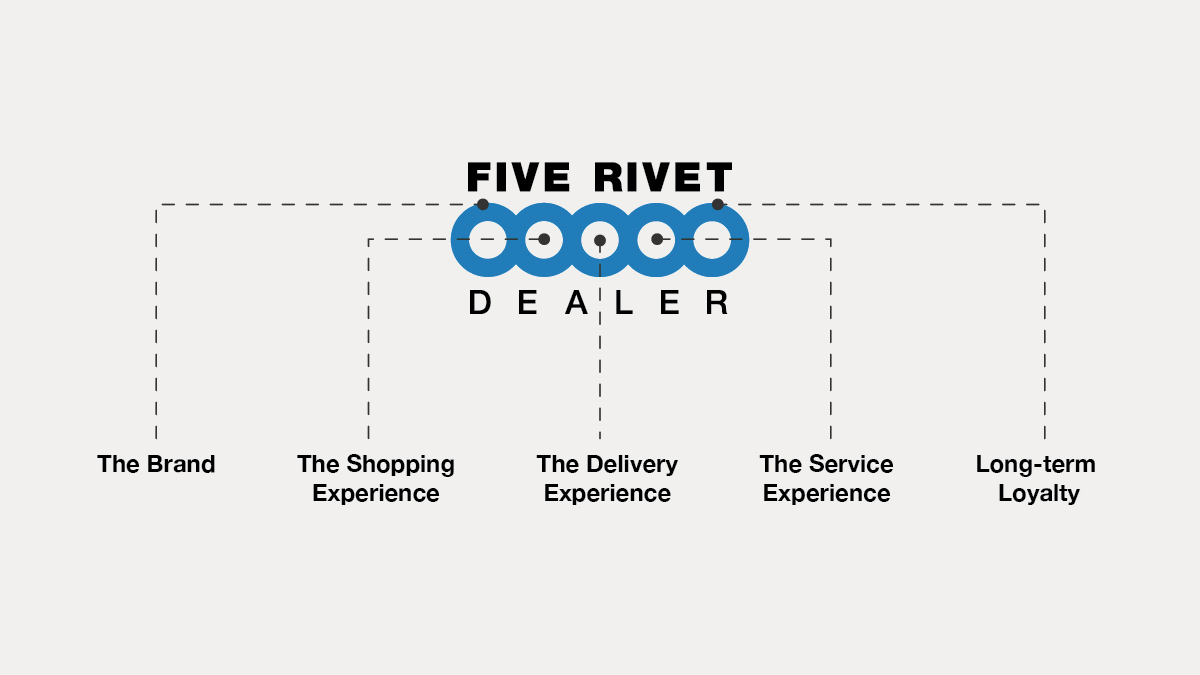 While every Airstream travel trailer is crafted from an average of 3,000 rivets, 5 Rivet Dealerships adhere to 5 "rivets" that exemplify a superior customer experience for all Airstreamers:
The Brand: Five Rivet dealers understand what it takes to represent an American icon – and what it takes to live up to more than 90 years of excellence.
The Shopping Experience: Through hands-on training at the factory and extensive online training, Five Rivet dealers are Airstream experts, with deep knowledge of the ins and outs specific to each model.
The Delivery Experience: A Five Rivet Dealer is expected to provide you with everything you need to leave the dealer lot with confidence about your new Airstream. From in-person walkthroughs to a 90-day follow-up visit, your dealer will set you up for years of travel success.
Service: No matter what year your Airstream was manufactured, you can expect outstanding service and maintenance from the Certified Airstream Service Technicians on staff at every Five Rivet Dealer.
Long-Term Loyalty: Five Rivet Dealers understand that lifelong satisfaction begins from the moment you step through their doors. Their ultimate goal is to provide every customer with an experience that builds loyalty and confidence knowing that their Airstream dealer is there when needed.
Five Rivet dealers have certified Airstream Service Technicians on hand who have personally visited the Airstream factory for training and have passed all service training modules. Plus, these dealers keep the parts you need in inventory and will always accept all Airstream customers.
Find a 5 Rivet Dealer Near You
Can I take my Airstream to the Airstream Factory for service?
Airstream's Factory Service Center is located in Jackson Center, Ohio, USA. From interior and exterior maintenance and repairs to large-scale restorations, the experts at the Airstream Factory Service Center are here to help.
Request an Appointment at Airstream Factory Service Center
While you are here, be sure to schedule a factory tour and explore our Heritage Museum to learn more about Airstream's quality hand craftsmanship and rich history. For decades our headquarters in Jackson Center, Ohio, has served as the central place where Airstreams are ideated, created, and revered. It's our mothership, and we'd love to host you here. Airstreamers in Jackson Center for service are welcome to camp at our Terraport (located behind the Airstream Service Center).